Community Updates:
OCT 24
Early voting is underway, Oct. 24 through NOV 4th.
Be informed. Review your sample ballot first.
OCT 19
FOR IMMEDIATE RELEASE Contact: Pam Gaskin
October 19, 2022 Phone: 832-594-7627
Black early voting campaign kicks off Saturday, Oct. 22
Houston's historic Emancipation Park site of rally to defend democracy.
As the November election draws nearer, the League of Women Voters (LWV) of Houston and the Houston Defender Network have joined forces to encourage the community to exercise the highest civic privilege we have as citizens – voting.
An Early Voting Rally is set for Saturday, October 22 from 1 p.m. to 4 p.m. at Emancipation Park, 3018 Emancipation Ave., in the heart of Third Ward. Highlights include spoken word artists, other performers and fun for the entire family. The theme is "Empowering Voters, Defending Democracy," and the timing is crucial – early voting is Oct. 24-Nov. 4.
The Oct. 22 rally, which is sponsored by Texas Children's Hospital, has garnered a number of community partners: Black Women of Greater Houston PAC, City of Houston, Greater Houston Black Chamber, Houston Area Urban League, Houston Metropolitan Baptist Ministers Conference, Metro, NAACP Houston Branch, Texas Southern University Student Government Association, Top Ladies of Distinction, University of Houston Student Government Association and Wheeler Avenue Baptist Church Social Justice Ministry.
Annie Johnson Benifield, president of LWV of Houston, said, "Democracy is not a spectator sport where one simply sits in the arena and watches events take place, but rather a gladiator sport where you fight for what you believe in, such as voting rights, equality, and justice.
"As a descendant of enslaved people, I am honored to serve as the first woman of color elected president of this 102-year-old organization," Benifield said. "I am committed to the League's mission of empowering voters through voter registration and voter education and defending democracy by advocating/fighting for voting rights."
She added that the League's Voters Guide is now available at https://lwvhouston.org/voters-guide/ and is its signature effort in the realm of voter education. "It provides nonpartisan, fact-based information in English, Spanish, Chinese, and Vietnamese on a digital platform so citizens can make informed choices about who best represents them in the political arena."
Texas Children's Hospital Executive Vice President Michelle Riley-Brown stated, "Texas Children's Hospital is proud to sponsor this event. The right to vote is an incredible privilege that was hard-earned. When we exercise our right to vote, we honor not only our responsibility to ourselves but to each other."
Sonny Messiah Jiles, CEO of the Defender Network, said it is fitting that the rally is held at Emancipation Park, which was purchased by former slaves 150 years ago and signifies power.
"Voting is a privilege that we continue to fight for," Messiah Jiles said. "We must unify to emphasize the power each of us has if we only take the time to vote. Despite past and present voter suppression tactics, we remain resilient. For 12 days, we have the opportunity to vote early at any polling location. That is the true meaning of "Power to the People."
Participating partners have been asked to bring signs that indicate the issues of most concern to them. The festive event will showcase the importance of early voting and the power of community coalitions.
-30-
SEPT 30
Boost the Spirit Vax Clinic @ Windsor Village Church Family
6011 W. Orem Dr., Houston, TX 77085
Saturday, October 29, 2022, 10 AM to 1 PM
See Flyer: COVID VAX Windsor Village Church
SEP 21
Voices for the Heart Community-Based Event for the Houston Area
September 24th at 11 AM CT
Attend virtually or in person at 6202 Lockwood Dr., Houston, TX 77026
(See September 24 2022 Houston Flyer)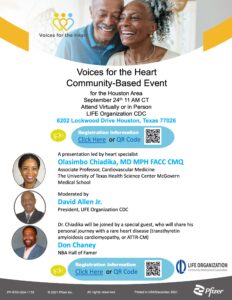 SEP 20
COVID-19 Boosters
The CDC recently recommended the following updated mRNA COVID-19 vaccine boosters to help restore protection that has waned since previous vaccination and target more transmissible and immune-evading variants:
The Moderna bivalent mRNA COVID-19 booster is authorized for people 18 and older.
The Pfizer bivalent mRNA COVID-19 booster is authorized for people 12 years and up.
These boosters are referred to as "bivalent" vaccines because they target both the original strain of COVID-19 and the Omicron BA.4 and BA.5 subvariants currently circulating in the United States. These updated boosters will help better protect us against these and future variants that might be closely related to Omicron.
Everyone who is eligible to receive the bivalent booster – including those who are moderately and severely immunocompromised – are recommended to receive ONE dose of the booster regardless of how many doses they have received previously. Those eligible may receive the updated booster if at least 2 months have passed since their last COVID-19 dose (either the final primary series dose or the last booster).
The original (monovalent) mRNA COVID-19 vaccine boosters are no longer authorized for people aged 12 years and older and can no longer be given to them, even if they had not previously received a monovalent booster dose. Children ages 5-11 should still receive the monovalent booster (at least 5 months after their second dose).
Routine Childhood Immunizations, Seasonal Influenza, & COVID-19 Vaccination can be co-administered
COVID-19 disrupted both in-person learning and routine well-child visits for many children. As a result, tens of thousands of children and adolescents have fallen behind on receiving recommended vaccines.
Timely vaccination is critical, as immunization schedules are designed to provide children with immunity early in life before they may be exposed to life-threatening diseases. Not only do delayed or missed vaccines leave children vulnerable to illness but when vaccination rates fall even just a little, vaccine-preventable diseases can spread easily.
We know from studies conducted throughout the pandemic that receiving a COVID-19 vaccine at the same time as routine immunizations is safe. If multiple vaccines are due, giving more than one vaccine at the same visit is important because it increases the probability that an individual will be up to date with vaccines.
In addition, with both influenza and COVID-19 viruses circulating, getting both the Flu and COVID-19 vaccines is important for prevention of severe disease, hospitalization, and death. CDC recommends health care providers offer influenza and COVID-19 vaccines at the same visit, with each dose administered in separate limbs.
COVID-19 Vaccines during Pregnancy
Despite the increased risk of severe COVID-19 among pregnant women, the increased risk of pregnancy complications, and a growing body of evidence showing COVID-19 vaccination during pregnancy to be safe and effective, only 71% of pregnant women in the U.S., and only 58% of pregnant non-Hispanic Black women, were fully vaccinated as of August 27, 2022.
Several factors appear to be associated with a higher likelihood of maternal COVID-19 vaccination, including recommendation from trusted health care providers, data on vaccine safety, and evidence that vaccination during pregnancy can protect the newborn babies and infants.
Protection from COVID-19 infection is especially important for infants younger than 6 months as they are at higher risk of severe illness and hospitalization than older children and unable to receive COVID-19 vaccination. A recent study found that completing a two-dose primary mRNA COVID-19 vaccine series during pregnancy can help protect babies younger than 6 months old from hospitalization due to COVID-19.
Providers should counsel patients on the benefits of COVID-19 vaccination during pregnancy for both pregnant women and their infants. The COVID-19 vaccine is safe and effective during pregnancy and can protect newborns and young infants from severe COVID-19 infections and hospitalization.
Please reach out to your Project Officer if you have any questions regarding routine immunizations or vaccination against COVID-19 or seasonal influenza. Thank you for your efforts every day to improve the health of America's mothers, children, and families.
Sincerely,
Michael D. Warren, MD, MPH, FAAP
Associate Administrator, Maternal and Child Health Bureau
Study:If you have been diagnosed with sickle cell disease, researchers at the NIH National Heart, Lung, and Blood Institute (NHLBI) in Bethesda, Maryland, are conducting an observational research study evaluating the effects of curative therapies on major organs including the heart, lung, kidneys, liver and brain. This study will also enroll patients with sickle cell disease who will not undergo curative therapies. Specialized studies to evaluate organ function will be performed during the first visit and two years later.

You can participate if you:

Are 18 years old and older
Have been diagnosed with moderate to severe sickle cell disease
Have not had a prior transplant and are not currently on dialysis

 What is involved:

A review of medical history to determine eligibility for the study
Evaluation of organ function, including MRI, blood tests, and kidney function tests
Must be able to travel to the NIH Clinical Center

Compensation will be provided to study participants for time and travel. A physician referral is not required to participate.

For more information:NIH Clinical Center Office of Patient Recruitment 866-444-1132 TTY users dial 7-1-1 Email: ccopr@nih.govOnline: https://go.usa.gov/xtSaKStudy #000479-H Follow us on Instagram @nih_ccopr

The NIH Clinical Center, America's Research Hospital located in Bethesda, MD

Metro red line (Medical Center stop)
SEP 15
Create your online Medicare account
Now's the time to create your online Medicare account! It's a secure way to access your personal Medicare information anytime. It takes just a few minutes to create your account. Then you'll be able to:
Add your prescriptions and pharmacies, to better compare health and drug plans in your area.
Sign up to go digital — get your yearly "Medicare & You" handbook electronically.
Print a copy of your official Medicare card.
Manage your Medicare information online — create your account today!
Sincerely,
The Medicare Team
SEP 14
To learn more, watch our panel, "Supporting 988 Post-Launch Through Federal & State Advocacy," @ 2pm ET TODAY, September 14, on Facebook Live and visit our 988 policy page here.
Share this action with your friends and family members, your community members, and on your social media pages tagging #AFSPadvocacy and #StopSuicide.
Please also join us for additional suicide prevention education and advocacy opportunities throughout this month, including:
Remember to check out AFSP's 2022 National Suicide Prevention Week website for social shareables, merchandise updates, a calendar of events, and much more.
As always, we thank you for your support and your advocacy!
Warm regards,
AFSP Public Policy Team
SEP 12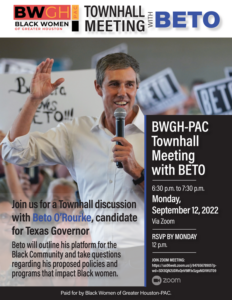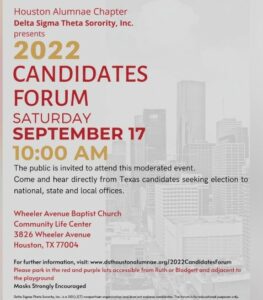 If you are interested in participating in the Emancipation Park 5K Walk, the info is below.
Image from Prevention Institute's Suicide Prevention Modules. Photo credit: Bill Dickinson on flickr
September is Suicide Prevention Awareness Month
We partnered with the Center for Law and Social Policy (CLASP) to develop a suicide prevention toolkit to focus on equitable strategies that promote social connection. The resources were designed for local and state government agencies and community-based organizations, but can be useful for all.
Suicide is preventable. This month and beyond, we encourage you to recognize the importance of strengthening protective factors—particularly among young adults, people of color, essential workers, and caregivers, who have had increased thoughts of suicide over the past two years.
Learn more about how events like COVID-19 and climate change disrupt social connection and support, and promising interventions to prevent suicide.
REGISTER: Lessons Along the Journey: Taking Action Toward Racial Justice in Public Health Systems
We recently launched Lessons Along the Journey: Taking Action Toward Racial Justice in Public Health Systems, a learning series funded by the W.K. Kellogg Foundation. The first of three sessions happened on Thursday, August 18 where we discussed the role of public health in social movements for racial justice and health equity. Watch the recording.
Our organization is on a journey that is taking us beyond understanding and documenting health inequities toward emphasizing racial justice in our work to achieve health, safety, and wellbeing. We want to prioritize the importance of sharing and learning while we're still on that journey both within our organization—across projects—and outside of our organization with current and future partners.
On October 20, we'll discuss cultivating authentic partnerships, power sharing, and responding to push back to anti-racism in practice
On December 15, we'll discuss narrative strategies, emerging policy themes, and opportunities to embed racial justice and health equity in public health policy and advocacy efforts.
PI's Elva Yañez Appointed to Federal Advisory Committee on Reconciliation in Place Names   
From Our Partners: Funding Narrative Change
Narrative change is important work and imperative for social change. The Convergence Partnership just released the first-ever report to focus exclusively on funding narrative change work: Funding Narrative Change, An Assessment and Framework. The report's authors Rinku Sen and Mik Moore propose a vital framework for funders and practitioners seeking narrative shifts around racial justice and health equity. This report marks a powerful turning point for our collective commitment to narrative change, health equity, and racial justice. Read the report.
Are you passionate about and want to support our work in racial justice and health equity? Well, we'd love for you to join the team. We have two positions open; both are temporarily remote but will be based in our Oakland office.
SEP 1
MAYOR'S OFFICE PRESS RELEASE
Houston Pays It Forward
Mayor Sylvester Turner Announces Water Donation Drive For Mississippi
August 31, 2022 — Mayor Sylvester Turner is encouraging Houstonians to donate water to help residents of Jackson, Mississippi. People in the state's largest city lack safe drinking water or water to flush toilets due to a catastrophic failure of that city's water system earlier this week following flooding and torrential rains.
The Mayor of Jackson has close ties to the City of Houston.
Details:
The Water Drive for Mississippi
Friday, September 2, 2022
7 a.m. – noon
Herman Square at Houston City Hall
500 McKinney Street
(between Smith and Bagby)
Houston, TX 77002
"Houstonians know firsthand what it is like to experience flooding and the need for relief supplies. I ask people to join me Friday in front of Houston City Hall as we collect all sizes of bottled water," said Mayor Sylvester Turner. "Mayor Chokwe Antar Lumumba graduated from Texas Southern University's Thurgood Marshall School of Law, and he is a TSU Tiger and a fellow mayor. We are like one big family, and I hope Houston will show its love and support for the people of Jackson, MS."
AUG 29
 wanted to provide you with some information on the current Public Service Loan Forgiveness program, as well as on the President's Wednesday announcement on student loan forgiveness. 

 

You may qualify for relief – and I hope you take advantage of this opportunity if you do! 

 

Public Service Loan Forgiveness program 

 

As government employees you may be eligible to have some of your federal student loan debt forgiven, thanks to temporary changes to the Public Service Loan Forgiveness program. Under this limited waiver, borrowers can receive credit for payments that otherwise would not have qualified for PSLF.  

But, time is running out to take advantage of this tremendous opportunity.  

Borrowers with federal student loans have until October 31, 2022, to apply for PSLF and/or consolidate non-Direct federal student loans to get the benefit.  

This waiver applies even if you did not make the payment on time, pay the full amount, or if you were on the wrong repayment plan. It also applies to loans that typically do not qualify for PSLF, including Federal Family Education Loans, Federal Perkins Loans, Federally Insured Student Loans, National Defense Student Loans, and more.  

Please check your eligibility before it's too late and tell your family members and friends who may be eligible, to check their status as well. 

Visit www.pslf.gov for more information and to apply for forgiveness. 

 

President's announcement on student loan forgiveness 

On Wednesday, President Biden announced that the Administration will cancel up to $20,000 in student debt for Pell Grant recipients and up to $10,000 in student debt for non-Pell Grant recipients. This relief will be available to borrowers earning less than $125,000 annually or households earning less than $250,000 annually. While more details on claiming this relief will be available in the coming weeks, public servants are encouraged to seek immediate relief through the temporary changes to the Public Service Loan Forgiveness program mentioned above. 

Thank you for your continued service to the American people.  

 

Sincerely, 

Deputy Secretary Adrianne Todman  
HRSA Virtual Job Fair

September 14, 2022 6:00 – 9:30 p.m. ET.

HRSA Virtual Job Fairs are free online recruitment events that connect career-seeking health care professional with representatives from health care facilities across the country.

Learn more about job opportunities, hear details about benefit packages, and find out how you can help underserved communities.

Connect with representatives from 24 health care facilities that are recruiting for hundreds of medical, nursing, dental, and behavioral health job opportunities in more than 36 disciplines. 

---

Questions? Email the HRSA Virtual Job Fair team.
AUG 25
Learn about the Biden-Harris Administration's Student Debt Relief Plan (website)
AUG 17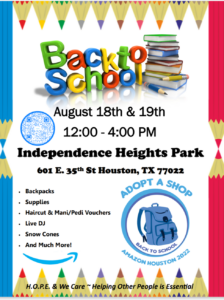 AUG 4
FOR IMMEDIATE DISTRIBUTION
Lily Rodriguez, Communications Director
Wednesday, August 3, 2022
Press Phone: 202-430-012
Email: algreenpress@mail.house.gov
Congressman Al Green Joins Harris County Judge Lina Hidalgo to Announce Launch of Brighter Future for Harris County Kids Initiative
(Houston, TX) — On Wednesday, August 3, 2022, Congressman Al Green released the following statement:
"It gives me great pleasure to know that the quality of life for many babies in Houston will greatly improve thanks to the Brighter Future for Harris County Kids initiative. The Brighter Future for Harris County Kids initiative consists of multiple programs that will address early childhood education and development, as well as support infant and child health."
"The Brighter Future initiative would not be possible without the support of over $80 million in federal funds, which I am proud to have helped secure for Harris County through the American Rescue Plan Act of 2021 along with my colleagues Reps. Jackson Lee, Garcia, and Fletcher. These funds will be distributed between five different programs: The Child Tax Credit Outreach Program, the Early Childhood Impact Fund, Maternal and Child Health Program, Child Care Contracted Slots Program, as well as the Lead Abatement and Prevention Program."
"All of these projects will be of great benefit to the people of the Greater Houston area because they will improve the quality of life for many children, provide parents with child development education and resources, increase the number of childcare providers available, as well as strengthen the health of many infants. It is exceedingly important for us to invest in our youth because they are our future. I thank Judge Hidalgo for what she's done to help make Houston a leading city in early childhood development. I look forward to supporting future similar initiatives that may be launched by Harris County."
# # #
Washington, DC
2347 Rayburn HOB
Washington, DC 20515
Phone: (202) 225-7508
Fax: (202) 225-2947
Hours: M-F 9AM-5PM EST
Houston Office
3003 South Loop West, Suite 460
Houston, TX 77054
Phone: 713-383-9234
Fax: 713-383-9202
Hours: M-F 9AM-5PM CST
JUL 23
The Houston Fire Department (HFD) is hiring, and we are excited to partner with community churches to share information with the entire congregation about this phenomenal career!

We welcome opportunities to participate in upcoming events to engage the community and are open to presenting to groups, speaking with individuals, attending health and/or career fairs, staffing a booth, and more.

Attached, please find an overview of information that outlines the minimum requirements, incentive pay opportunities, hiring process steps and benefits that may be posted or shared electronically.

Please contact the following individuals to facilitate this partnership:

Chief Shelby Walker, HFD Assistant Chief

Email:  shelby.walker@houstontx.gov

Phone: 832.394.6700

Tameka Hardison, HR Recruiting Manager

Email:  tameka.hardison@houstontx.gov

Phone: 832.394.6623
JUL 18
Are you a Veteran or senior citizen in need of home repair? You may qualify for free home repairs. Please visit rebuildinghouston.org for more information. Apply for aid.
______________________
New 988 number for National Suicide Prevention Lifeline launches Saturday, expanding access amid funding concerns (link to news article)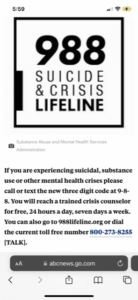 JUL 12
Cooling centers in Houston
https://www.khou.com/article/weather/houston-heat-emergency/285-782b3f0c-8a91-433c-8dcc-7ae2d7bd9e53
15 tips to save on your power bill
https://www.khou.com/article/news/local/15-tips-conserve-power-save-money/285-6889bbf6-9abc-4cea-81c8-5daa37e0a0b5
Stay safe in extreme heat
https://www.khou.com/article/news/local/how-to-stay-safe-dangerous-houston-heat/285-27d8ef06-92d5-4539-8944-7fc9afcfc771
Keep pets safe
https://www.khou.com/article/news/local/heat-pet-safety-tips/285-1a8412b6-b910-4b18-839d-7f38b1cf738a
Check the forecast
http://khou.com/weather
JUL 11
Volunteers Needed to Participate in a Study
Seeking young adults, who recently completed cancer treatment, and their significant other to complete surveys on stress, health behaviors, and quality of life.
To participate, you must:
Be 25-39 years at the time of cancer diagnosis

Recently completed cancer treatment (within 3 months)

Have a spouse or significant other who is willing to participate
Study Details:
Participants will be asked to complete a 5-minute survey, for 7 consecutive days, every 3 months, over 2 years

Participants will be compensated for their time, up to $810 an individual
If interested, click on the link below to complete an interest form and a member of the CBC team will contact you.
For more information, contact 713-834-6883|email: CBCstudy@mdanderson.org
Study Flyer: Coping Beyond Cancer (CBD)-Dr. Cho
Interest Form link: https://redcap.link/q0690sj0
JUL 9
Baker Ripley is helping residents in HARRIS, BRAZORIA and GALVESTON counties with utility bills. Below is info on how to apply.https://www.bakerripley.org/services/utility-assistance-program  Application in Englishhttps://d2dmd73kpz2s55.cloudfront.net/uploads/pdf_upload/pdf/61eb2f91e835621aeea94c4b/2ffe647d-51e7-4263-bb72-83957d91cf19.pdfApplication in Spanish Aplicación de Asistencia de Servicios de Utilidadeshttps://d2dmd73kpz2s55.cloudfront.net/uploads/pdf_upload/pdf/61df4fefe49893728f5dc55c/ba39c758-f611-49dd-b3a2-342f5a7ebb3f.pdf
Info on the Utility Assistance Program:
JUL 1
New Harris County Recovers Website
A new website has been launched that will serve as an external resource for the public. The Harris County Recovers website is an initiative of the Harris County Long-Term Recovery Committee working to increase access and awareness of disaster recovery resources.
To learn how you can get ready, get help, or get involved, please explore the new site at: www.harriscountyrecovers.org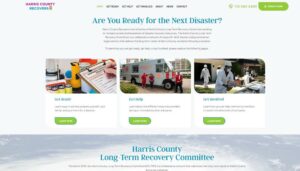 __________________________________________
JUN 29
Be Inspired!
WATCH the Community Re-entry Network Program Biannual Spring Graduation on HTV on 7-1-2022 at 6:00 PM.
You can also watch on Comcast (Ch. 16) Phonoscope (Ch. 73 &  99)Suddenlink (Ch. 14)AT&T U-verse (Ch. 99). In addition, the Graduation will be available on the Houston Health Department YouTube Station, and on our CRNP Website Community Re-Entry Network Program | Houston Health Department