Community Updates:
JUL 1
New Harris County Recovers Website
A new website has been launched that will serve as an external resource for the public. The Harris County Recovers website is an initiative of the Harris County Long-Term Recovery Committee working to increase access and awareness of disaster recovery resources.
To learn how you can get ready, get help, or get involved, please explore the new site at: www.harriscountyrecovers.org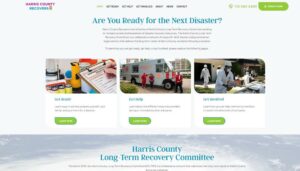 __________________________________________
JUN 29
Be Inspired!
WATCH the Community Re-entry Network Program Biannual Spring Graduation on HTV on 7-1-2022 at 6:00 PM.
You can also watch on Comcast (Ch. 16) Phonoscope (Ch. 73 &  99)Suddenlink (Ch. 14)AT&T U-verse (Ch. 99). In addition, the Graduation will be available on the Houston Health Department YouTube Station, and on our CRNP Website Community Re-Entry Network Program | Houston Health Department
JUN 28
HRSA Virtual Job Fair – June 29 from 6:30 – 9:00 p.m. ET

Don't Miss Out:

Register Now!

Are you looking for a new opportunity helping communities who need talented, dedicated clinicians like you?

On June 29, join our virtual job fair and hear from nine health care organizations from around the country will be recruiting for the following positions:

Physician
Physician Assistant
Dentist
Nurse Midwife
Nurse Practitioner
Registered Nurse

You will also have the opportunity to hear about scholarship and loan repayment programs from the National Health Service Corps.

Space is limited, register today!

Questions? Email the HRSA Virtual Job Fair team.
JUN 23
YOUTH VOICES MATTER: A.I.R. (Abuse Is Real) is accepting new members. For more information, see the flyer.
SAVE THE DATE: The date for the annual Soles for A.I.R. event has been set for October 29, 2022! Calling all community sponsors and partners!
_________________________________________
COVID-19 Vaccinations Covered Without Cost-sharing for Eligible Children Aged Six Months to Five Years
Medicaid.gov sent this bulletin at 06/22/2022 05:09 PM EDT
View in browser | Distributed by Center for Medicaid and CHIP Services (CMCS)
In light of recent action by the Food and Drug Administration (FDA) and the Centers for Disease Control and Prevention (CDC), the Centers for Medicare & Medicaid Services (CMS) is announcing that children aged six months to five years with Medicaid and Children's Health Insurance Program (CHIP) coverage are eligible for COVID-19 vaccinations without cost-sharing. Nearly all people with Medicaid, CHIP, Basic Health Program coverage, self-insured employer-sponsored coverage, and group and individual health insurance coverage can get COVID-19 vaccinations, including boosters, at no cost. People with Medicare pay nothing to receive a COVID-19 vaccination, and there is no applicable copayment, coinsurance or deductible. People without health insurance or whose insurance doesn't provide coverage of the vaccination can also get COVID-19 vaccines and their administration, including boosters, at no cost.
The FDA and the CDC recently authorized and recommended both the Pfizer-BioNTech COVID-19 vaccine for children six months through four years of age and the Moderna COVID-19 vaccines for children six months through five years of age, marking a historic milestone in the nation's fight against the virus. 
CMS will support and share the message about the importance of vaccinating the millions of children over the age of six months, including engaging with states, local jurisdictions, and stakeholders to get the latest information on vaccines for children to Medicaid beneficiaries and their families. This effort builds on the work that CMS has already done to require state Medicaid programs to provide coverage for standalone counseling visits about the importance of kids' vaccination—giving families the support they need to engage with trusted community providers.
Staying up to date with your COVID-19 vaccines, including booster doses, is the best defense against severe illness, hospitalization, and death from the virus. CMS continues to explore ways to ensure maximum access to COVID-19 vaccinations.
Regardless of whether coverage is available without cost-sharing for a COVID-19 vaccination under CMS programs, currently all providers of COVID-19 vaccinations must agree to provide the vaccination at no cost to recipients, as a condition of receiving the vaccine dose from the federal government.
Information regarding the CDC COVID-19 Vaccination Program Provider Requirements and how the COVID-19 vaccines are provided through that program at no cost to recipients is available at https://www.cdc.gov/vaccines/covid-19/vaccination-provider-support.html and through the COVID-19 Vaccine Policies & Guidance page.
Resources for physicians, partner organizations, and other trusted messengers are also available through HHS' We Can Do This partner website at wecandothis.hhs.gov. Resources are written in plain language, are culturally and linguistically appropriate for a variety of audiences, and are available in English and Spanish.
Visit vaccines.gov (English) or vacunas.gov (Spanish) to search for vaccine locations. For resources to promote COVID-19 vaccination, visit the We Can Do This campaign.
### 
Contact: CMS Media Relations CMS Media Inquiries
Get CMS news at cms.gov/newsroom, sign up for CMS news via email and follow CMS on @CMSgov
District D Expungement Event
Date: June 25th,2022 | 11:00am – 1:30pm
Location: Jones Memorial UMC – Crestmont Park Campus
Register via eventbrite: https://www.eventbrite.com/e/expungement-workshop-tickets-366892313787?aff=ebdssbdestsearch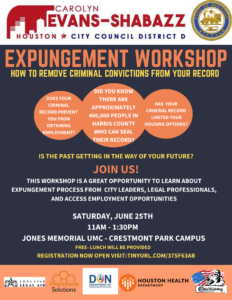 _____________________________
Houston Health Department COVID-19 updates: Week of 06/19/22
Key Metrics
Houston's latest 14-day average COVID-19 positivity rate is 23.9% and the wastewater virus load is 556% of the baseline. Stay up to date with vaccines and help lower the numbers. Find nearby free vaccination sites at GetVaxxedHouston.org or by calling 832-393-4220.
Vaccination & Testing Sites
The Houston Health Department offers free COVID-19 testing and vaccination sites across the city every week. Find a nearby site at HoustonHealth.org or by calling 832-393-4220.
COVID-19 Community Level
Houston's CDC COVID-19 Community Level is currently HIGH. Please stay up to date with your vaccinations and get tested if you have symptoms. Of course, people may choose to wear a mask at any time. http://ow.ly/sm8O50IlXnQ
Children six months and older are now eligible for COVID-19 vaccine
Children as young as six months old are now eligible for a COVID-19 vaccine at any of the Houston Health Department's four health centers.
Under the recommendation of the Centers for Disease Control and Prevention (CDC), close to 20 million children 6 months through 5 years of age may receive their first dose of either the Moderna or Pfizer vaccine.
_______________________
The FAA is hiring people interested in a career as an air traffic controller to "Be ATC". As an Air Traffic Controller, you will join the FAA's fast-paced, active team of 14,000 professionals across the nation working in radar facilities and in towers who help keep the skies safe.
The application window